A Local's Guide to St. Thomas: What are Ecotours?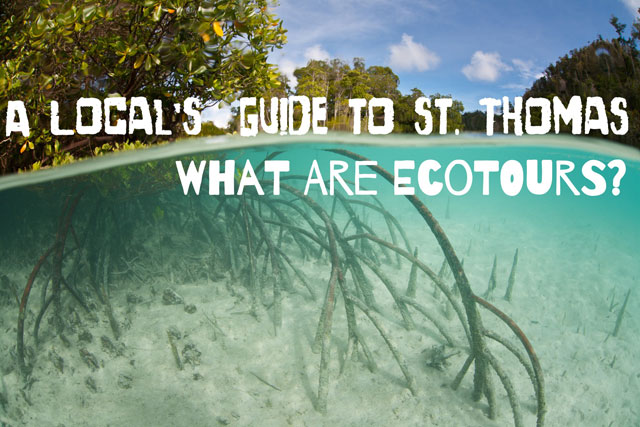 Environmental awareness has become increasingly popular over the past decade. What was once found in public service announcements and textbooks is now regular discussion in homes. Eco-friendliness affects the food we eat, the vehicles we buy, the brands we trust, and even the places where we travel. As "going green" continues to rise so does ecotourism.
Ecotourism is basically environmentally responsible, conservation-minded travel which ranges from eco-trips centered around conservation projects to simply taking an environmentally educational tour. An eco-friendly traveller will gain knowledge of ways to protect and preserve the natural beauty of their travel destination to ensure it lasts for later generations. Even if you don't consider yourself to be an environmentally conscious person, you'd be surprised to find that there are often eco-options for activities you'd already be participating in. So for your upcoming visit to St. Thomas, let me give you the gist of ecotours and why you should consider one of these eco-friendly excursions.
What are Ecotours?
Eco Tours are basically excursions that strive to preserve and improve the natural environment you'll encounter through education and conservation efforts. If you're picturing a classroom lecture on recycling, think again! These excursions give you a hands on, real life, one-on-one encounter with nature. Your tour guide gives you information as you'd receive it on any other tour except they add information on endangered plant and wildlife species preservation efforts and tips on how you can help protect the nature you're experiencing. For example, on a St. Thomas Kayak to Bird Island Ecotour, your guide may explain how a Kayakingexcursion to Bird Island versus taking a dingy prevents hundreds of gallons of oil from entering the Caribbean Sea each year. Likewise on a St. Thomas Hike and Snorkel Ecotour you may hear about how chemicals in sunscreen affect the coral and learn about reef safe sunscreens. Have you snorkeled somewhere and thought the coral did not look healthy or been to a beach and saw the water was not the pristine picture you had in mind? These are the moments ecotours are fighting against, to protect the beautiful island you've been imagining. So why not add a little island conservation to your vacation?
What's Unique About St. Thomas Ecotours?
The Virgin Islands are home to some of the world's most incredible beaches and island views. The waters are swimming with wildlife from sea turtles and rays to thousands of fish and coral species, while the island is home to exotic plants, insects, and animals. With tourist counts in the millions, we need all the help we can get to preserve the natural beauty of our islands, and we want you to love the islands as much as we islanders do. This is why St. Thomas Eco Tours give you access to some of the island's most unique and prized possessions such as the mangrove lagoon or the volcanic cliffs at Cas Cay. St. Thomas ecotours show you paradise attractions you would not experience otherwise while giving you some invaluable information on how to help us preserve it. Our ecotours are unique because our island is.
Looking to kayak, hike, or snorkel on your visit to St. Thomas? Adventure with a purpose! With an ecotour, you're not only having an incredible experience in nature, you're learning how to make sure your children and their children can have one too.
Be sure to check out our Eco Tours page for the best ecotours on St. Thomas! If you have any questions about St. Thomas or St. John ecotours or any inquiries about the islands, call or e-mail us for authentic local insight!

Naturally,
Megan

CaribbaConnect Ecotours:
St. Thomas Mangrove Lagoon and Cas Cay Ecotours
Kayak Bird Island and St. Thomas' Mangrove Lagoon
Extended St. Thomas Mangrove Lagoon and Cas Cay with Lunch
Ecotour: Night Kayak with Pirate and Ghost Stories
Caneel Bay St. John Kayak, Hiking, and Snorkeling Tours
Henley Cay St. John Kayaking and Snorkeling Tours
Honeymoon Beach All-Day Watersports Package
Extended Caneel Bay and Henley Cay Ecotours with Lunch