Choosing the Best Excursion in St Thomas: A Complete Guide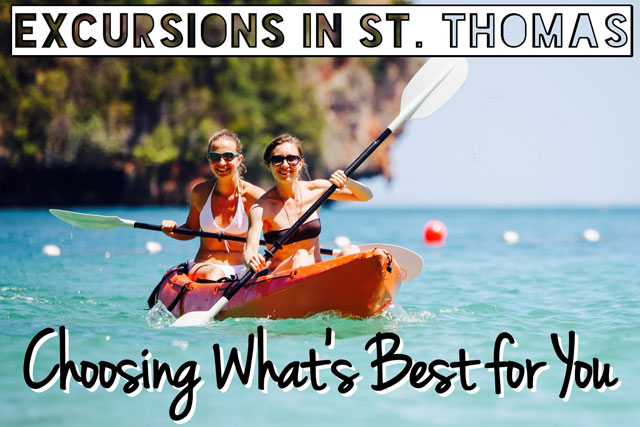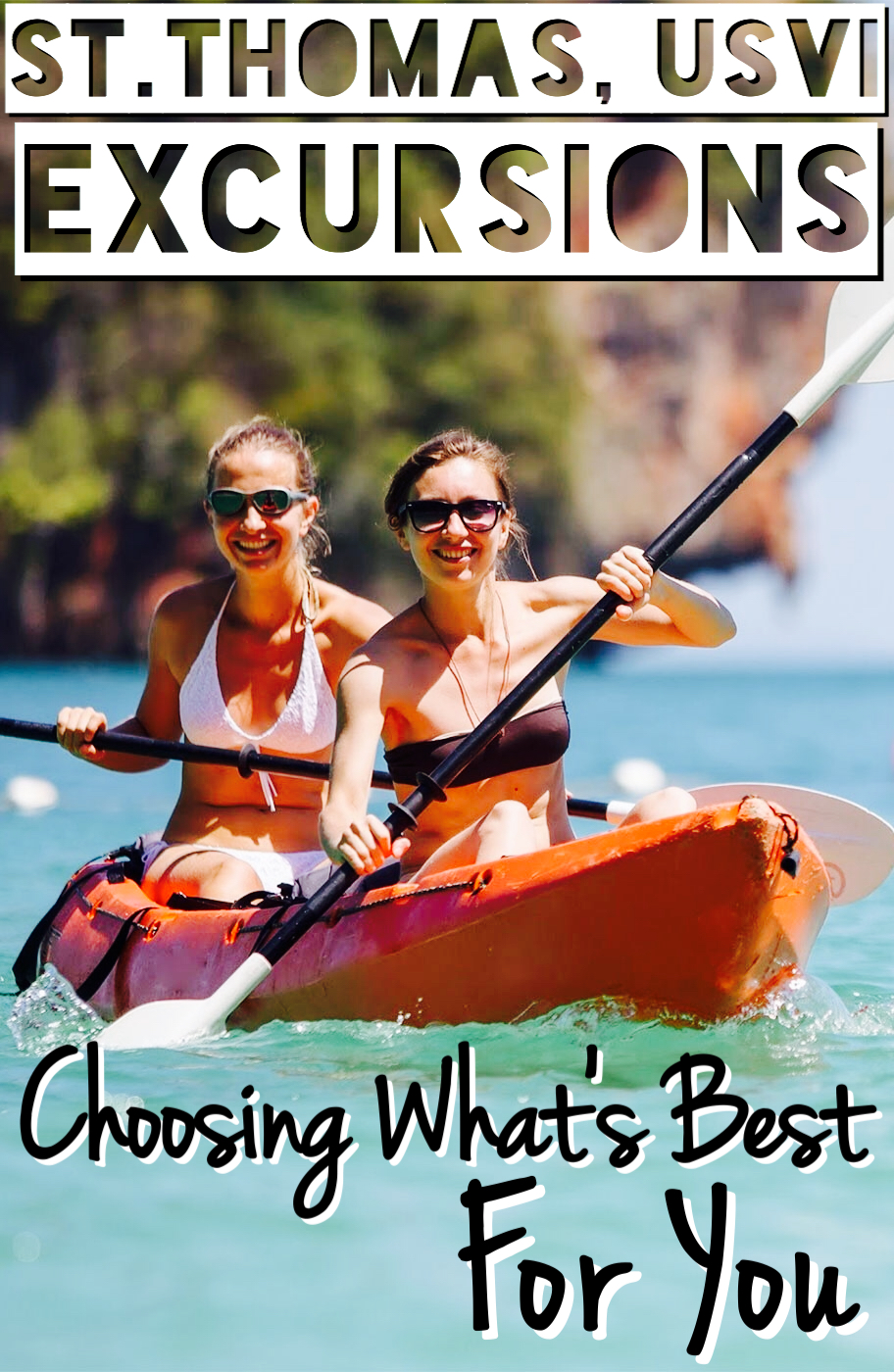 I have been there. The months before your vacation are quickly turning into weeks, and it's time for you to start booking tours, making reservations, and bringing your vacation to life! But where do you start? There are so many sails, so many sights, and so many things to do. The fate of your family vacation rests on you, but you don't know how to choose! Yes I have been there, and as a resident islander, I want to help you narrow down the many excursions in St. Thomas, Virgin Islands, to the ones that are just the right fit for you and your family! Whether you're visiting St. Thomas off of a cruise (visit our Shore Excursions page to ensure your shore excursions will fit within your ship's schedule) or spending a week or two on the island, the perfect excursion for you is here! Relaxation, adventure, romance, only you know exactly what you need out of your vacation. Let me be your local guide to help you find the perfect St. Thomas Excursions with this simple question: What are you looking for in St. Thomas?
Relaxation- If you've had your Caribbean screensaver set for months just counting down the moments to when you can kick off your flip-flops and sip umbrella drinks by the sea, there are plenty of excursions in St. Thomas for you. When you think of relaxation, "excursions" might not be what comes to mind, but reserving a St Thomas excursion is the best way to ensure your relaxation is just right. You've come all this way, and that's what you deserve! Here are the Best Excursions in St Thomas for some perfect Caribbean relaxation:
Half-Day Sail & Snorkel With Lunch- Spend a perfect 4 hours at sea on this barefoot sail, taking in the island views, soaking up the sun and sea air, and enjoying the complimentary onboard lunch and very open bar.
Day Sail to St. John- Set sail from St. Thomas to St. John for a leisurely day at sea enjoying the island breeze and breathtaking views. It's the perfect low-maintenance day with included breakfast, lunch, open bar, and everything needed to enjoy the water from snorkeling gear to float mats. Kick back, relax, and leave your cares in the Caribbean Sea.
Sightseeing and Beach Tour- Find the perfect balance of exploration and relaxation on one of the best St Thomas excursions the island has to offer as you experience amazing sightseeing spots throughout the island and spend the afternoon in the welcoming waters of one of the top beaches in St. Thomas.
Private Beach Hopping Tour- Skip the researching, island maps, and taxis. Let your friendly personal driver take you to the best beaches in St. Thomas without the hassle for a perfect beach day customized to your desires.
Private Full Day USVI Sail - Caribbean Lobster & Premium Open Bar- There's nothing more relaxing than a sailboat all to yourself! Enjoy an all-inclusive sail stocked with amenities to the USVI destinations of your choice. Make your perfect day at sea come true!
A Party- You work hard every day, and on your vacation, you've earned the right to cut loose and get a bit wild! You're looking for great music, flowing cocktails and good time island vibes. The Caribbean islands are famous for knowing how to have a good time, so let our fun-filled St. Thomas excursions take you right to the party!
Day Sail to Jost Van Dyke- Set sail on a full day of island jams and a very open bar to the #1 party spot in the Virgin Islands, Jost Van Dyke. There's always a good time to be found at White Bay, home of the famous Soggy Dollar Bar, and the destination is just half the fun of this all-day party!
Private Full Day USVI Sail - Pizza Pi VI Lunch Stop & Premium Open Bar- The party is yours to make on this passport-free private trip setting sail to the USVI destinations of your choice! Enjoy a very open premium bar, a visit to the famous pizzeria at sea, and an itinerary customized to include island views, snorkeling spots, or just a nonstop party at sea!
Private Full Day 35ft Boat Charter- Discover the perfect blend of adventure and fun on a private boat rental where you can customize your day at sea to include snorkeling, private beach stops, and a trip to the famous Willy-T party barge!
Private Power Catamaran Charter-Travelling with a large group? This customizable massive power cat charter holds up to 32 passengers for the perfect party excursion St. Thomas offers for all group occassions: wedding groups, reunions, and more!
Adventure- When you travel, you immerse yourself in the destination. You want the full experience: exploring terrains, engaging in local culture, and daring to try new things. For all the adventurers out there, excursions in St. Thomas will not disappoint! These top St. Thomas excursions will show you a side of the Virgin Islands that's truly extraordinary:
Shopping, Sightseeing, and Beach Tour- Get your fill of tax and duty-free shopping, take in the best island views and lookout points, and experience one of the top beaches on this all-in-one St. Thomas excursion!
Night Kayak- Dare to explore the seas in the dark on this night kayak through the eerie hanging trees and dark waters of the mangrove lagoon, complete with chilling ghost tales and pirate lore.
Mangrove Lagoon and Cas Cay Ecotour- Hike, kayak, and snorkel the one-of-a-kind St. Thomas mangrove lagoon full of rare saltwater filtering mangrove trees and the remarkable snorkeling sights their roots produce. Discover a unique side of the island you can only experience on this St. Thomas excursion!
Parasailing- View St. Thomas from 350-feet, and experience the thrill of powerboating, parachuting, ballooning, and gliding all at once on a parasailing excursion!
Romance- The daily stress of life piles up and wears on our relationships, so when it comes time to vacation, we need time to reconnect and reignite the romance. The breathtaking island views, firelit Caribbean sunsets, and warm turquoise waters make St. Thomas one of the most romantic destinations in the world. If a little romance is what you need, these excursions in St. Thomas are sure to provide those perfect intimate moments you're looking for:
Shopping and Sightseeing Tour- St. Thomas is one of the number one shopping destinations for jewelry because of the incredible tax and duty free deals you'll find on the island. Treat your significant other to a beautiful momento of your paradise vacation then spend the afternoon taking in the incredible island views and snapping photos of your Caribbean bliss.
Private Sightseeing Tour- See the beauty of St. Thomas snuggled up with your significant other in a private vehicle with a knowledgeable personal driver where youcustomize the itinerary to your desires.
Bird Island Sunset Kayak- If you prefer a little adventure with your romance, this sunset kayak trip is the perfect blend. Settle into your two-person kayak and paddle through the mangrove lagoon to Bird Island and watch the numerous sea birds take flight against a perfect Caribbean sunset.
Private Full Day Boat Charter- Explore the Virgin Islands with a powerboat all to yourselves, and customize your day to include as manys snorkeling stops, island explorations, or private beach moments as you desire!
Private Sail to Jost Van Dyke- Enjoy a full day private sail with included breakfast and open bar to beautiful White Bay in Jost Van Dyke for an intimate day at sea full of fresh cocktails, lounging on deck, and soaking up the Caribbean Sea.
Sunset Cocktail Sail- Set sail for an evening of perfect Caribbean breezes, endless cocktails and hors d'oeuvres, and a blazing sunset as the background on one of the best sunset cruise in St. Thomas.
Private Half Day Sail with Sunset- Make your special occasion (anniversary, proposal, babymoon, etc) truly unforgettable on a 37ft sailboat for just the two of you including snorkeling adventures, a premium open bar, friendly crew ready to capture your photo ops, and the main event, a breathtaking St. Thomas sunset from the best seat in the house.
No matter your mood, St. Thomas excursions are sure to exceed your expectations. So get those itinerary slots filled, set the countdown clock, and get ready for the paradise vacation of a lifetime!
Be sure to check out our Excursions page for the best excursions on St. Thomas! If you have any questions about St Thomas excursions or any inquiries about the island, call or e-mail us for authentic local insight!
Experience Paradise Your Way,
Amit
CaribbaConnect Mentioned Excursions:
Half-Day Sail & Snorkel With Lunch
Private Full Day USVI Sail - Caribbean Lobster & Premium Open Bar
Private Full Day USVI Sail - Pizza Pi VI Lunch Stop & Premium Open Bar
Private 35ft Boat Charter - Full Day
Private Power Catamaran Charter
Shopping, Sightseeing, and Beach Tour
Mangrove Lagoon and Cas Cay Ecotour
Private Half Day Sail with Sunset Option - Pizza Pi VI Stop & Premium Open Bar