St Thomas: Frenchtown Restaurant Guide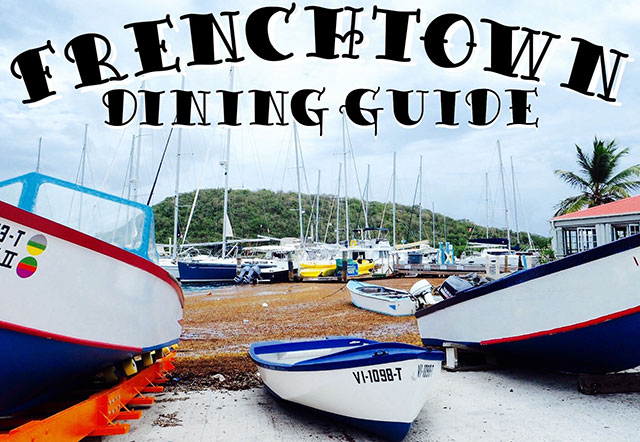 Frenchtown is a quaint fishing village in St. Thomas that is well-known for the fresh catch sold by local fisherman and an abundance of quality restaurants serving unique dishes with an island twist. St. Thomas visitors are often surprised to discover that the Downtown Charlotte Amalie area is mostly closed at night with a few restaurants remaining open for dinner. While restaurants throughout the island serve dinner, there are a few concentrated areas where one can walk around, view menus, and pub hop. Frenchtown is one of those areas, and it's within walking distance from Downtown, making it the perfect dining spot for those staying within or looking to dine near the Charlotte Amalie area. I have your local guide to the many fare options for dining in Frenchtown on your St. Thomas vacation:
Breakfast- Standard breakfast fare: eggs, pancakes, juice, etc.
Alexander's Bella Blu- Saturday and Sunday Brunch
Frenchtown Deli
Hook, Line, and Sinker
Lunch, Dinner, or Something in Between
Drinks & Eats- Pub-style fare, island bar atmosphere
Frenchtown Brewing Company- Brewery tastings on select days (does not serve food)
Rum Shandy (L,D)
Something Lighter- Sandwiches and lighter fare
Frenchtown Deli (L)
McDonalds (L,D)
A Global Experience- International cuisine
The Twisted Cork- (L,D) American Fusion, Lunch on Weekdays
Alexander's Bella Blu- (L,D) Italian and German
Pie Whole- (L,D) Italian
Epernay- (D) French
Land and Sea- Seafood and steak menu
Hook Line and Sinker (L,D)
Oceana (D)
After Hours- After hours dining or late arrival to the island
Enjoying fresh Caribbean seafood and local cuisine is one of the top things to do in St. Thomas. Whether it's St. Thomas brewed or freshly caught, Frenchtown is the area to experience a great local dining experience. Enjoy a view of Charlotte Amalie Harbor during the day or walk the lively street for dinner. Whatever time of day, you will want to plan on a visit to Frenchtown for a great meal on your St. Thomas vacation! To learn more about dining in St. Thomas, make sure you visit our Local's Guide to St Thomas Restaurants.

A Toast to You,
Amit