A Local's Guide to St. Thomas: Sightseeing Spots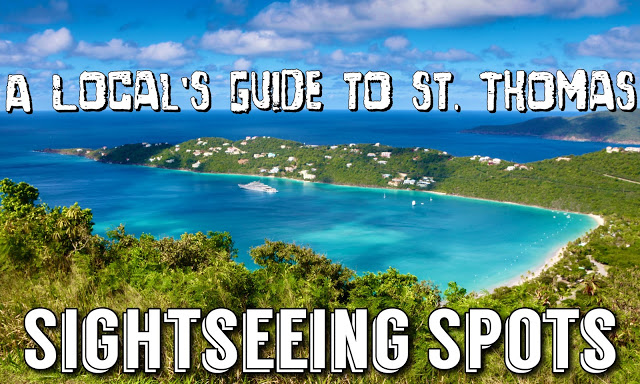 I'm always inviting friends to come stay with us on the island because if any of them end up moving to an exotic location, I sure hope they extend an invitation to me! Every now and then I get the response, "I'm just not a beach person." While I'm always flabbergasted at the notion of "non-beach" people, I still can't help but laugh and begin my island pitch. Magnificent harbors, historic sites, and lively streets- there's so much more to St. Thomas than just sand and sea! On your visit to St. Thomas, don't miss experiencing the history, culture, and extraordinary sights the island has to offer beyond the beaches. Take a break from the beach on your St. Thomas vacation or cruise to sightsee at the many unique spots throughout the island:


Mountain Top- You may think you know souvenir stores, but you've never seen anything like Mountain Top. Located at the highest elevation point in St. Thomas, this souvenir mega store is fully equipped with jewelry, t-shirts, bags, and any St. Thomas novelty item you can imagine. And Shopping is only half the fun! Have a world-famous banana daiquiri at their massive bar. Admire the panoramic views of the Caribbean and neighboring islands. Take a selfie with one of the dozens of pirate replicas throughout the store. Score souvs, booze, and breathtaking views at this one-of-a-kind St. Thomas sightseeing spot on a Sightseeing and Beach Tour!


Drake's Seat- Magens Bay is one of the top 10 beaches in the world and probably the most well-known landmark in St. Thomas, but many are unaware of the unique history behind this alluring bay. If you've seen pictures of this beautiful beach, chances are one was taken from Drake's Seat. Take a step into history on a Sightseeing Tour as you visit this famous bench, named for the explorer and Sir Francis Drake Channel it overlooks, and imagine the centuries of ships, pirates, and pioneers that have travelled here. Let the spectacular view of heart-shaped Magens Bay and neighboring islands and cays take your breath away. Spot an iguana or two for great photo ops, and admire the brilliant flamboyant trees in bloom during the summer months, adding even more vibrant color to this picture-perfect spot!


Downtown Charlotte Amalie- The colorful hillsides towering over the radiant Caribbean Sea make Charlotte Amalie Harbor one of the most picturesque in the world. Get a perfect view of the entire harbor from Blackbeard's Overlook for amazing pictures. Watch the impressive cruise ships and vast sail boats visiting the harbor from the waterfront view downtown. Pay a visit to admire the vibrant shops and historic Danish architecture scattered throughout the alleyways as you experience the best duty and tax free shopping in the Caribbean in Downtown Charlotte Amalie with deals on liquor, jewelry, souvenirs and more, all on a Shopping and Sightseeing Tour. Downtown is also known for fantastic lunch cafes featuring traditional Caribbean fare among other cuisines. Historic photo spots, world class views, spectacular shopping, and delicious dining, Downtown Charlotte Amalie is a must for your St. Thomas vacation!


Red Hook- Shopping, Dining, and Island Hopping, it's all found in the busy East End area of Red Hook. Catch a glimpse of the Red Hook ferry terminal, servicing ferries to nearby islands, and spot the many sailboats in harbor. Enjoy the delicious aromas of the many local restaurants. Watch the streets bustle with shoppers and safari buses. See how the locals live in this waterside area of the east end of the island on a Shopping, Sightseeing, and Beach Tour!


Whether you're visiting the island for a few weeks or a few hours, take some time to get acquainted with the real St. Thomas. Take your large group, wedding party, or family on a personalized private island tour such as a Private Sightseeing and Beach Tour or Private Sightseeing and Shopping Tour where you can experience these unique sightseeing spots and more. Beautiful beaches can be found throughout the Caribbean, but there's only one St. Thomas with its magnificent viewpoints, interesting history, and one-of-a-kind culture.

Be sure to check out our blog article on A Local's Guide to St. Thomas: Sightseeing Tours, and visit our Island Tours page to book the best sightseeing tours in St. Thomas! If you have any questions about the best sightseeing spots in St. Thomas or any inquiries about the island, call or e-mail us for authentic local insight!
See the Sights,
Megan


CaribbaConnect Mentioned Tours:
St. Thomas Sightseeing and Beach Tour
St. Thomas Shopping and Sightseeing Tour
St. Thomas Shopping, Sightseeing, and Beach Tour
Private St. Thomas Sightseeing and Beach Tour