A Local's Guide to St. Thomas: Walking/Running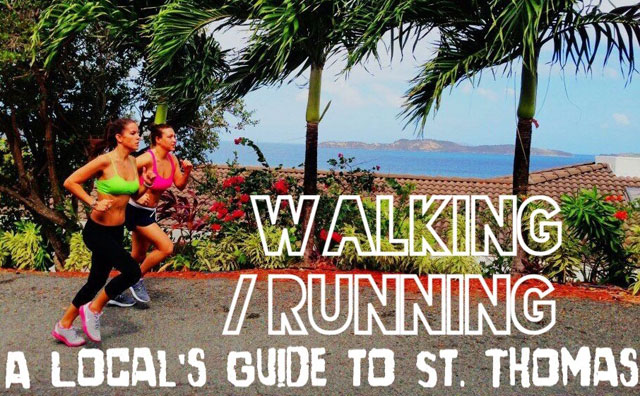 Going for a walk or run in your city may be as simple as putting on running shoes and going out the door. Why would you possibly need a how-to on going for a run on your St. Thomas vacation? In its beautiful terrain, St. Thomas has some island quirks. If you're like me and keep up your daily walk or run no matter where you are in the world, I've got some local insights to prepare for the quirks and make your walk/run more productive on your visit to St. Thomas:
How to Go Walking/Running in St. Thomas- When it comes to St. Thomas runs, there's more to consider than just what shoes to wear. Roads in St. Thomas do not have shoulders or sidewalks, so it is not a wise decision to run on the island roads. Check with your resort for designated running paths or plan your day accordingly to incorporate one of my recommended walking/running location. Note that the terrain of St. Thomas is hilly and mountainous. Even resort running paths often include upward terrain, so brace yourself for the added challenge. Self-guided tours are available through historic St. Thomas in Downtown Charlotte Amalie for some culture and fun with your walk or run.

Where to Go Walking/Running in St. Thomas- While incredible views abound, there are few truly flat areas in St. Thomas, so if flat is what you have in mind for your walk or run, you have a few options on island. The Waterfront is a paved pathway that begins in Yacht Haven Grande featuring some of the world's top yachts in its marina. The path continues along scenic Charlotte Amalie Harbor where you'll see sailboats, cruise ships, and even pirate-ship replicas. You'll continue to pass some of the Virgin Islands government buildings included the Legislature and historic sites such as Fort Christian. The Charlotte Amalie Ferry Terminal is a good place to turn around. Beaches will give you a flat running option as well. Magen's Bay is a mile long and the longest beach in St. Thomas. Magen's is a popular running spot for its distance, and it contains paved areas to run if you want to avoid sand or add distance. Morningstar Beach at the Marriott or Sapphire Beach on the East End are also quite long and would be ideal for running. Always check with your resort or lodging area for recommended running paths. Roadways in St. Thomas are not safe for running, so these resort areas are your best option for topographical running on island. Resort areas like Sapphire or The Ritz Carlton have paved paths that feature uphill running. As a tip, it is customary to greet people in the Virgin Islands with a "good morning afternoon/night", so if you are running at a resort, greet workers as you pass for a friendly Caribbean smile to keep you motivated.
When to Go Walking/Running in St. Thomas- Sunrise and sunset are the best times for running, with increased breezes, milder temperatures, and breathtaking views. The St. Thomas tides experience very little change throughout the day, so you can run at the beach any time of day. Regardless of when you run, be sure to supply yourself with as much water as you can and consider an electrolyte-replenishing beverage after your workout. The tropical humidity can increase the amount that you sweat significantly compared to drier climates. If you'll be enjoying some cocktails throughout the day, start your day with a run to avoid added post-cocktail dehydration.
If you enjoy running or walking at all, I highly suggest fitting in some time on your St. Thomas vacation to experience the fresh air and incredible views on an island run/walk. Sometimes a unique island experience is as simple as picking up the pace, catching your breath, and taking in the scenery.
Be sure to check out our Excursions page to book the best excursions on St. Thomas! If you have any questions about walking/running in St. Thomas or any inquiries about the island, call or e-mail us for authentic local insight!
Keep the Pace,
Amit