Top 10 Best Excursions in St Thomas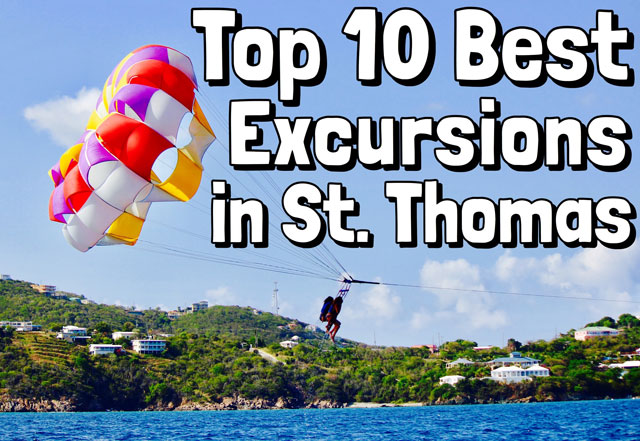 If you are at all like me, when you are spending your hard earned dollars to travel on vacation, you want each moment to be the very best it can be. You expect the destination to be perfect, the hotel you reserve to be stunning, the food to be to die for, and the excursions to make moments you will cherish for a lifetime! Breathtaking island views, delicious Caribbean fare, and adventures ranging from duty free shopping tours to parasailing high above crystal clear seas, St. Thomas can and will check all of the boxes for your high expectations! Whether your vacation is a cruise to St. Thomas (visit our page dedicated to St. Thomas Shore Excursions for the best cruise ship excursions on the island) or a week long escape to paradise, you just need a local expert to help you find those awesome St. Thomas Excursions to make your perfect St. Thomas vacation. As a local islander and a fellow expector of perfect vacations, let me guide you to the absolute best excursions in St. Thomas that are sure to provide those treasured experiences of your dreams.
10. Sightseeing & Shopping Tour- Embark on a fun filled journey around the island featuring incredible deals on the best excursion in St. Thomas for shopping! Experience the best of St. Thomas' tax and duty free shopping in historic Downtown Charlotte Amalie as you score mega deals on jewelry, luxury brands, liquor and tobacco, souvenirs, apparel, and more! Then spend your afternoon on a party ride sightseeing tour of St. Thomas where you will hit all the best lookout points for breathtaking views of nearby islands and hear fun facts about the island from your insightful local guide!
9. Half-Day Sail and Snorkel with Lunch- Set sail on one of the best St. Thomas excursions as you venture to one of the top beaches in the USVI, beautiful Honeymoon Beach in St. John, on a laid back cruise across clear Caribbean waters with snorkeling stops and spectacular island views along the way! All your snorkel gear is included to get up close with exotioc sea life, tropical fish, and colorful corals. Delight in a perfectly light buffet lunch and very open bar at sea on this easy breezy sail that's so much fun!
8. Night Kayak- Experience St. Thomas waters from a different view- one from the dark- on the best excursion in St Thomas at night. Admire the island's brilliant starry sky as you observe unique nighttime sea life behaviors and unusual underwater sights you can only experience after sunset. Then get ready to be spooked as you listen to pirate legends and local ghost stories along the dark journey through the eerie trees in the mangrove lagoon.
7. Full Day Powerboat Charter- Go wherever the wind and waves may take you on one of the best St. Thomas excursions for island hopping! Explore the world famous Baths in Virgin Gorda, join the party on the floating bar at the Willy-T, or snorkel the awesome sights at the Caves at Norman Island. No passport? No worries! Fill your day exploring deserted islands and cays, snorkeling with sea turtles and thriving reefs, and relaxing at top secluded USVI beaches. You call all the shots on this all day boating adventure, captain!
6. Day Sail to Jost Van Dyke- Get ready to join the party in Jost Van Dyke on one of the most popular day trips from St. Thomas! Your day at sea begins with an included breakfast and a refreshing snorkel stop off the coast of St. John where you will swim along a vibrant reef and spot unique sea life for the perfect start to your day! Then spend the afternoon in Jost Van Dyke with a visit to downtown for a lunch break and some light shopping. Then sail over to pristine White Bay for relaxation, good times, and a painkiller or two from the famous Soggy Dollar Bar on this picture perfect famous beach! Kick back, relax, enjoy a cocktail from the open bar, and sway to the island sounds on your breezy sail back to St. Thomas.
5. Private All-Inclusive USVI Day Sail- Explore remote islands and cays, relax on secluded beaches, snorkel with exotic sea life and thriving reefs, or go wherever your heart desires with customized St Thomas excursions on your private all inclusive sailboat for the day! Fill your day at sea with adventure or simply take it easy and enjoy the breezy sail and island views. Snorkel gear, float mats, lunch, and open bar- everything is included for you to set sail on your Caribbean dream day!
4. Shopping, Sightseeing, and Beach Tour- Experience all the island highlights from shops to sights to sandy shores on one of the best St Thomas Island Excursions for sampling the island! Sway to the island music as your tour brings you to top St. Thomas stops! Visit Downtown Charlotte Amalie for the best tax and duty free shopping and selections on the island. Stop at all the best lookout points for fantastic postcard perfect views and photo ops. Finally hit one of our world class St. Thomas beaches for a relaxing afternoon in the crystal clear turquoise waters of the Caribbean Sea!
3. Mangrove Lagoon Kayak, Hike, and Snorkel- Encounter exotic natural wonders as you kayak through the St. Thomas mangrove lagoon where you will get acquainted with these mysterious salt water trees and the unique underwater worlds that form among their roots. Hike the beautiful, uninhabited island of Cas Cay where you will enjoy hermit crab races and breathtaking views of its red cliffs and shell beach. Experience snorkeling sights unlike anywhere else on the island among the mangrove roots and amazing coral in the the lagoon on one of the top all natural excursions in St. Thomas!
2. Parasailing- Soar over the clear waters of the sparkling Caribbean Sea and see St. Thomas from a bird's eye view as you only can while parasailing! Experience the thrilling sensations of powerboating, parachuting, ballooning, and gliding all in one on this best excursion in St. Thomas!
1. Day Sail to St. John- Sail away to St. John on a relaxing and fun filled day at sea featuring snorkeling stops full of tropical fish, vibrant reefs, and unique sea life. Then enjoy an afternoon of soaking up the sun on the shore of a stunning St. John beach. Your full day sail is complete with breakfast, lunch, a very open bar, and all the gear you need to snorkel with sea turtles, stingrays, and fish of each color of the rainbow. With island hopping, snorkeling spots, and endless island cocktails, all on a breezy sailboat, it is no wonder this sail to St. John is one of the best excursions in St. Thomas!
Whether you are looking for an all day adventure or just a fun way to relax, there are excursions in St. Thomas for every expectation and desire. Whichever one you choose, these best St Thomas Excursions are sure to exceed your expectations with a memorable experience that is sure to be the highlight of your time in paradise! This time your vacation truly will be the absolute best one yet!
Be sure to check out our blog article on Excursions in St Thomas: Choosing What's Best For You, and visit our Excursions page to book the best excursions on St. Thomas! If you have any questions about the best excursions in St. Thomas or any questions about the island, call or e-mail us for authentic local insight!
Make it Unforgettable,
Amit

CaribbaConnect Mentioned Excursions:
Half-Day Sail and Snorkel with Lunch
Private All-Inclusive USVI Day Sail
Shopping, Sightseeing, and Beach Tour