Top 5 Romantic Things to Do in St. Thomas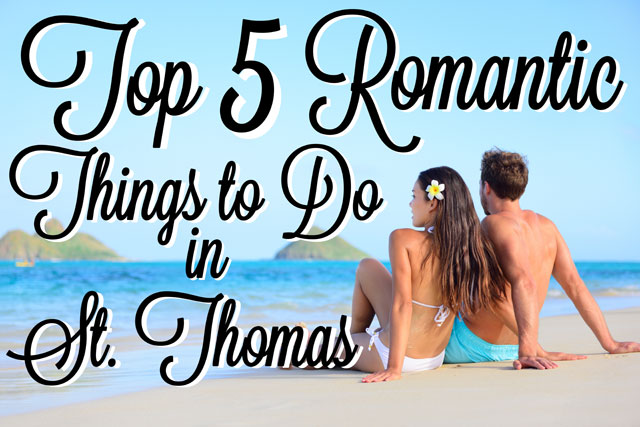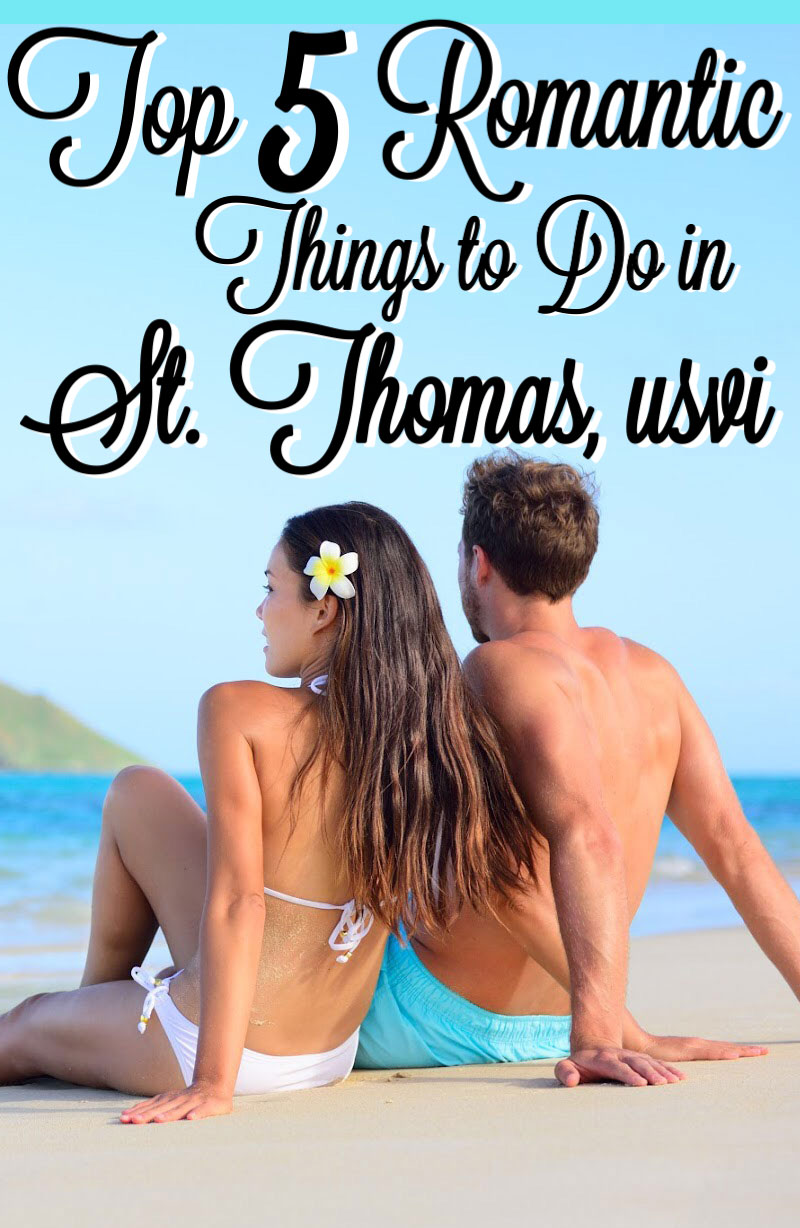 Whether you're taking your first couple's vacation, honeymooning, or Grandma is watching the kids for a few hours, couples need time for romance in their vacations. Work, kids, schedules, and general life gets in the way, so we vacation to escape and rebuild ourselves. Where better to let go of the world and reconnect with your love for a while than on your St. Thomas vacation? The vibrant sunsets, crystal blue beaches, and towering silhouettes of nearby islands create the perfect ambiance for kindling and rekindling those flames. The romance of the islands is contagious, so take some time to soak it in with one of these romantic things to do in St. Thomas:
Sunset Sail- The soft Caribbean breeze blowing the sails against the sky aglow with the fire of a St. Thomas sunset and you and your lover with a cocktail in hand, there's nothing quite like a Sunset Sail. I'll never forget the first sunset sail I took with my husband. I wanted the world to stop in that moment with the perfect warmth, the amazing views, and us just being together taking it all in. If you're one of those parents with a few hours to be alone, this is that romantic moment you're longing for. To step the romance up a notch, a Private Half-Day Sail with Sunset is even more intimate and perfect for anniversaries or proposals. A sunset sail will be the highlight of your St. Thomas vacation.
Sunset Kayak- Add a little adventure to your romantic excursion with a Sunset Kayak Ecotour. Take out a two person kayak through the exotic St. Thomas mangrove lagoon at the coolest time of day, just as the sun is starting to set over the islands. Watch the seabirds fly around their nests at Bird Island with the fantastic sunset background. Commune with nature and your other half on this romantic kayak excursion.
Private Sails and Charters- A sailboat all to yourselves, the sparkling Caribbean Sea surrounding you, and the schedule is yours to make on these St. Thomas sailing charters. Take a All-Inclusive Full Day Sail to be alone with your love at sea as you enjoy a feast of Caribbean lobster. Customize your itinerary to include snorkeling, beach stops, or just taking in the views, whatever suits the two of you. Make it a USVI Sail with Sunset for an extra dose of romance! If you have passports, a Private Sail to Jost Van Dyke is a full day itinerary of snorkeling stops and soaking up the sun on White Bay in the British Virgin Islands. A premium open bar is included on all sails to keep the cocktails flowing for your romantic sail. Add something exotic to your romance with a Half-Day or Full Day Powerboat Charter. With your passports, you can travel down the British Virgin Islands to the immaculate Baths at Virgin Gorda for some of the world's most romantic photo spots. If you like to party together, visit the famous floating Willie-T's restaurant and bar. Stop at the uninhabited Sandy Spit for a beach all to yourselves. A Powerboat Charter through the USVI is a passport-free option to wander beautiful beaches in St. John or snorkeling the reefs surrounding the many remote cays. St Thomas Boat Charters are private and customized to your wishes as a couple.
Private Tours- Seeing the St. Thomas sights can be a romantic excursion when it's just the two of you and a private driver to take you throughout the island. St. Thomas Private Sightseeing Tours include a vehicle to yourselves, a friendly local driver, and an itinerary that's your to choose among the best sights. Have someone to take those perfect couple photos at each beautiful overlook and snuggle up as you take in the island landscapes. Add some time to relax at the beach with a Private Sightseeing and Beach Tour where you can choose one of the best beaches in St. Thomas to spend the afternoon together soaking up the sun. If more beach and less sightseeing is your preference, a Private Beach Hopping Tour will give you a driver for the day to hit 3 of the top St. Thomas beaches for some fun in the sun or beachside cocktails, whatever the two of you desire.
Restaurants- A little candlelight and fresh oysters goes a long way on a night of romance! St. Thomas has an abundance of ambient restaurants for you and your love to reconnect over a fantastic meal. Take a stroll alongside the massive cruise ships in port after your meal at Havensight Mall. Enjoy the waterfront views and historic alleyways of Downtown Charlotte Amalie. Have a night out on the town with drinks and live music in Red Hook. Whether it's oceanside brunch or a dinner downtown, our St. Thomas Restaurants Guide will direct you to the cuisines you and your loved one are craving.
People often ask how my husband and I are so happy all the time. After 8 years of marriage (yes we're still young!), I look at my husband with more adoration every day, and I credit our island life for a lot of that happiness. With beautiful island views, weekend adventures at sea, and dinners for two overlooking the Caribbean Sea, St. Thomas keeps the romance alive for us every day, and the island will do the same for you on your vacation. Let the island take you away.
Share the Love,
Megan
CaribbaConnect Mentioned Excursions:
Private Half Day Sail with Sunset
Private Alli-Inclusive Full Day Sail
Private Full Day USVI Sail with Sunset - Caribbean Lobster & Premium Open Bar
St. Thomas Private Sightseeing Tours
Private St. Thomas Sightseeing and Beach Tour